Classroom ramping hits state schools as more than 4000 sacked or stood down over Covid
Schools across Queensland are grappling with a teacher shortage after an estimated 4000 school staff have been sacked or stood down since January for Covid-related issues.
More than 4000 school staff are believed to have been sacked or stood down across the state since January for not being vaccinated against Covid, triggering fears of a classroom 'ramping' crisis and teacher shortage.
Education Minister Grace Grace said two per cent of Queensland's 54,000 full-time equivalent state school teaching staff were not vaccinated with Education Queensland figures showing about 1080 full-time state school teacher suspensions.
Last month, there were 37 staff from 23 state schools in Redland City alone suspended from duty for not complying with the Covid requirements.
RTI document from Department of Education dated February 9, 2022 showing the number of Queensland teachers and staff absent because of Covid.
There were 17 teachers in the Capalaba state electorate suspended, eight in Oodgeroo, 11 in the seat of Redlands, and one in the Springwood electorate.
The department refused to give out details of which schools were involved to protect suspended teachers' privacy and records for private schools are not public.
All suspended teachers are not paid, once they have exhausted holiday pay.
Data from a right to information request from the Teachers' Professional Association of Queensland showed there were 3339 state school staff suspended in February and of that 2545 teachers.
Association secretary Tracy Tully said southeast Queensland schools were struggling to fill 2000 relief teaching positions.
Ms Tully said schools at the Sunshine Coast could only fill 20 per cent of vacant relief teaching positions with one prep class having 18 different teachers in Term I.
A primary school northwest of Hervey Bay, halted some classes and held remote learning after 22 teachers out of 41 staff were away because of Covid.
The teacher body put Central Queensland schools on the critical list with two high schools found to be using unqualified student teachers to take year 12 classes.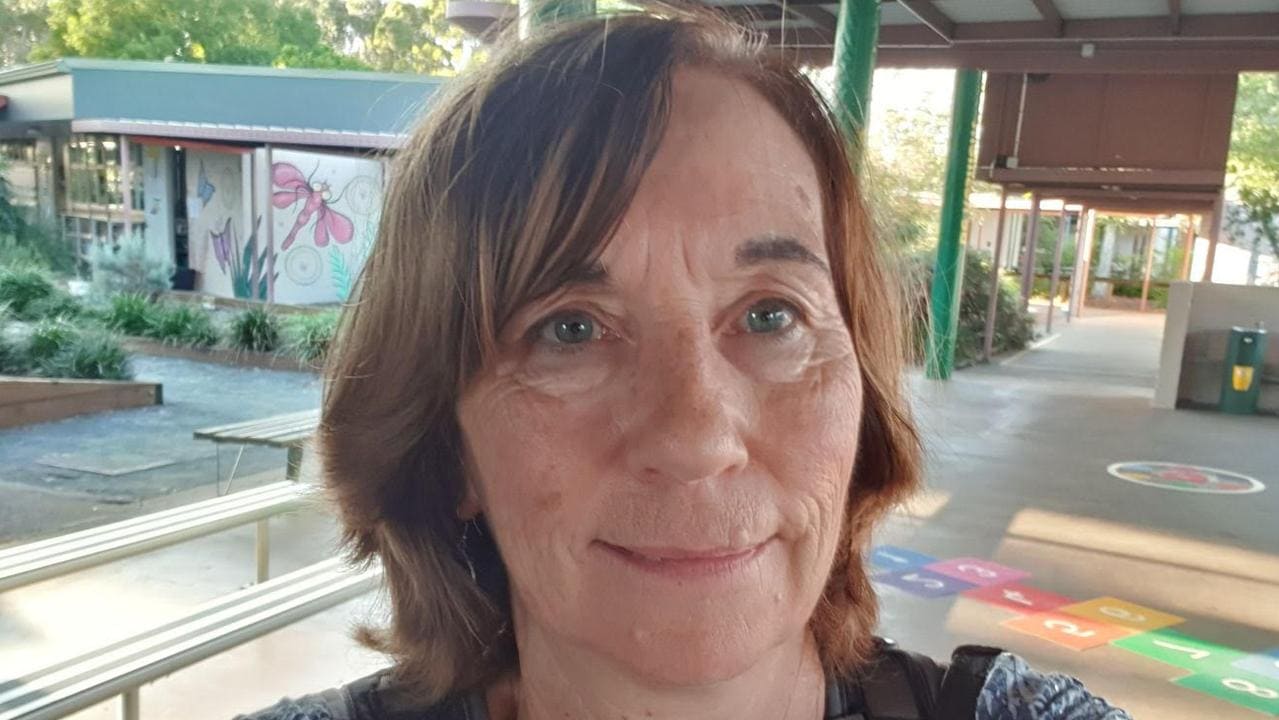 Cleveland relief teacher Deborah McNamarra. Schools across Queensland are grappling with a teacher shortage after an estimated 4000 school staff have been sacked or stood down since January for not being vaccinated against Covid.
Cleveland relief teacher Deborah McNamarra said supply teachers had never been busier as some staff were away because they had Covid, some were sidelined because they were close Covid contacts and others stayed away because they feared they would get sick.
The Education Department's Tracer recruitment system was also advertising all-expenses-paid positions for fly-in, fly-out teachers to western parts of Queensland.
"I've been to seven different schools this term and we are only in week three," she said.
"There have been days recently when schools have been unable to source relief teachers so the deputy principal or the music teacher has had to step in to look after a merged class of more than 28 students."
Former teacher Margie MacNamara, 64, said her family's life was turned upside down when she, her husband and her two daughters all lost their jobs after the mandates were enforced this year.
She said none of the sacked teachers had been compensated and many were unable to get another job.
Schools across Queensland are grappling with a teacher shortage after an estimated 4000 school staff have been sacked or stood down since January for not being vaccinated against Covid.
Mrs MacNamara, who was teaching at a private independent primary school on the Gold Coast, said she was sacked along with 12 other staff at the school after refusing to get vaccinated.
She said a further 15 ended up getting vaccinated in an effort to keep their jobs.
"My husband is a principal of a private primary school and was stood down because he was not vaccinated," she said.
"But he caught Covid which gave him an exemption so he is allowed to return to his position for six months but when the exemption expires he will have to get vaccinated if the mandate has not already been lifted.
"The schools have been wonderful and I was offered a few hours a week in a sectioned off part of the school before that work dried up and I was eventually sacked.
"This is a major crisis with many classrooms being forced to amalgamate because there are not enough teachers and in other cases, some second-year university teaching students taking over after sackings."
Oodgeroo MP Mark Robinson, a former TAFE teacher, said he raised the sackings in parliament after being contacted by more than 30 "distressed" sidelined teachers and school staff.
Member for Oodgeroo has listened to hundreds of complaints from teachers. Photo Contributed
"The state has placed further pressure on teacher and staff shortages which were already being experienced by schools, largely due to a lack of planning," Mr Robinson said.
"Sadly the minister's answer to my question in parliament hides the full extent of the impact of Labor's mandates on teachers and schools by only reporting on state schools and even then refusing to list the schools," he said.
Mr Robinson said a local state school teacher for more than 30 years told him she had been stood down without pay, threatened, gagged and ultimately terminated.
He said she was banned from school premises and not permitted to collect her teaching resources and property.
Another constituent was in tears when she told him she was sacked after 14 years and was now suffering anxiety.
A third sacked local teacher was the most experienced in their discipline but after being sacked only teacher graduates were left in the classroom.
Another reported he and his wife had both been sacked due to the mandates and had since lost their house, friends and family.
An Education Department spokesman said schools and early childhood services had plans in place to minimise disruption to learning.
"There may be times when schools or early childhood services need to adjust their timetable, combine classes, or bring in relief staff to manage any workforce challenges," Education Queensland said.
"There may even be a need to close a school or service on departmental or health advice — in the same manner that would normally be taken for other health-related concerns such as a gastro outbreak."