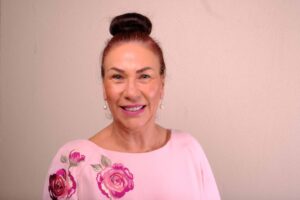 Ranked in Australia's Courier Mail POWER LIST: Top 50 Most Influential people in education; Tracy Tully dominates conversations at state, national and international levels; influencing decisions that matter in education and training.
Author, keynote speaker, TV and media personality, Tracy entered the domain of those who really can 'tell it like it is,' presenting the real facts, even if it's unpleasant; setting the record straight when she published her book FEARless Buckle Up … Build RESILIENCE, leaving 'no stone unturned'.
With a career spanning over 40 years in education, leadership, and training, she fearlessly swapped her school principal whistle becoming a 'corruption whistleblower' in a nation built on British penal colonies, with a formidable 'Tall Poppy Syndrome' culture.
A Leadership Solutions Specialist renowned for her strategic and innovative problem solving, building communication, resilience, and tenacity, through her 3 Step BUCKLE UP FEAR Method. Tracy's held senior leadership roles in the public, private and non-profit sectors for the last four decades.
Tracy influences front line leadership capability and productivity, training leaders and workforce teams to build motivation and resilience by overcoming fear through her 3-Step BUCKLE UP FEAR Method.
ASSESS & BREATHE
ADAPT & PREPARE
ACT FIRST & ANALYSE LATER
A motivation percolator and distiller of fear; Tracy turns chaos into calm and overwhelm into passion. She guides teams to overcome challenges, creating positive and collaborative environments enabling team members to work together and achieve shared goals.
A Jill-of-all Trades in mastering communication, building confidence, and strengthening strategic thinking for unstoppable performance; her key message is:
Life is like a box of chocolates; each sweet delicacy is a goal enticing you to keep moving forward. But in every box of chocolates, there will always be one or two you don't like. I'll show you how to find the sweet spot in everything, most of the battle is achieving the right mindset
Professional Speaker
Tracy conducts powerful and witty speaking opportunities, growing confidence through her 3 Step BUCKLE UP FEAR Method, strengthening resilience and tenacity by adopting an assertive mindset.
She challenges teams to step out of their comfort zone, motivating them to build their resilience by unleashing their collective potential.
Her presentations are passionate and highly engaging, guaranteeing you'll never forget her. Tracy claims "I show you how to find the sweet spot in how you think, by exploring the significance of fostering a positive team culture and its impact on resilience."
Speaking Topics:
Lost at Sea – Calibrate your Mindset & Find True North From Strangers to Allies: A Team Guide to Working Together
Tracy shares her 3-Step BUCKLE UP FEAR Method demonstrating how to build resilience by getting comfortable with fear.
Author of FEARless Buckle Up … Build RESILIENCE Tracy is a courageous whistle-blower detailing her true-life experiences and explaining why there's no room for assumptions, blame or procrastination. 
Tracy fulfilled her lifelong dream to become a boutique book publishing company launching MRW Publishing, helping authors and co-authors to share their no-holds barred stories. 
A children's book author, Gordon the Goat and the Gully Kids is her first venture into the enchanting world of entertaining children with Australian stories. Illustrator Sean Leahy brings her words alive with his cartoons depicting the animal characters' antics. 
Join us and thousands of subscribers to receive your FREE weekly edition of MARS the Motivation and Resilience Specialist newsletter.
Together we can BUCKLE UP FEAR making sure that 'WHERE ENERGY FLOWS OUR ATTENTION GOES.' 
Book a 30-minute Consultation to learn how I can help you with my 3-Step Buckle Up Fear Method.
Purchase her book here: wwww.tracytully.com/book 
For Speaker Bookings and bulk book sale enquiries:                         
+61 429 992 916 
coauthorbooks@gmail.com 
Social Media
https://www.facebook.com/mrwcoaching
instagram.com/motivationresilienceforwomen/
pinterest.com.au/motivatingresil/
linkedin.com/in/tracy-tully-3879a2122/
Got questions? Enquire Now.
Purchase her book here: wwww.tracytully.com/book 
For Speaker Bookings and bulk book sale enquiries:     
+61 429 992 916 
coauthorbooks@gmail.com www.tracytully.com 
TRACY TULLY
Social Media
https://www.facebook.com/
mrwcoaching instagram.com/motivationresilienceforwomen/
pinterest.com.au/motivatingresil/
linkedin.com/in/tracy-tully-3879a2122/